This article will take your through the steps required in order to be able to connect your instagram page.
Note: In order to connect your instagram page, it must be linked to your Facebook business page. Posting to instagram is only supported as 1 image right now, this will be the first image from the listing's gallery.
How to update your permissions
Step 1. Disconnect Facebook
Because you have not previously allowed dripflow the permissions to connect to your instagram page, you will need to update your Facebook permissions. 
To do this your will need to navigate to 'Profile Settings' (top right) > My account.
Click 'Disconnect' on Facebook and then click connect again.
Follow the prompts and click 'Continue' until you see the below. Click on 'Business Integration Settings'.
Step 2. Edit Integrations
Click 'View and edit' next to dripflow.io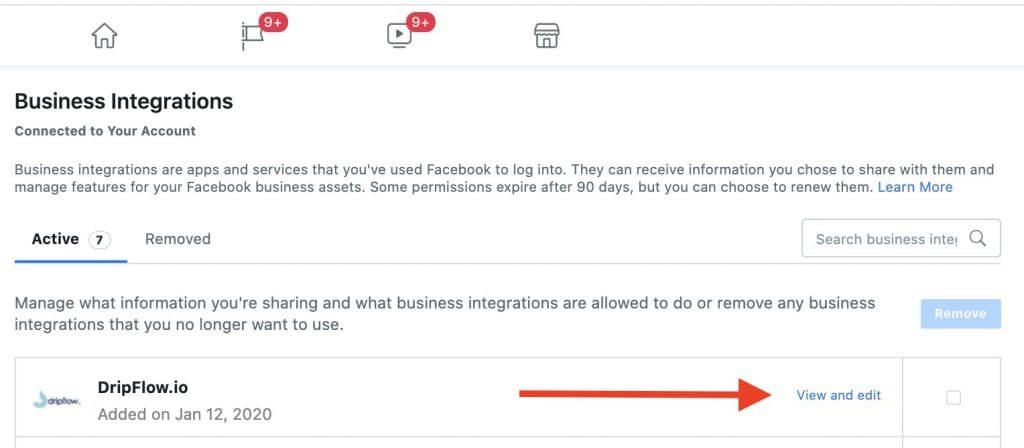 Step 3. Allow permissions
From here you can basically tick all the options and pages for anything to do with instagram, as this will then you the option of selecting the page you want from the 'My Account' page.
To be specific, you need to select a page under "Access profile and posts from the Instagram account connected to your Page"
And make sure you select he page under "Upload media and create posts for the Instagram account connected to your Page"
Step 4. Select your instagram page in dripflow
Once you're back in dripflow simply use the dropdown for instagram and select your page.
Posting is automatic. Any properties which are scheduled to post or arrive after this point, will also be posted to instagram. 
You can also push these listings manually to FB or Insta or both by simply going to 'My Listings' > For Sale / For Rent > Click on the property and press the button 'Upload to social now'. 
You will be presented with a popup which will give you options / control on what to post & where.
Note: Image aspect ratio: Must be within a 4:5 to 1.91:1 range. 
We'll soon release an update to crop your images if they are not within this range.