Automatically post your property listings to Facebook, Instagram, LinkedIn & Google My Business.
One of the key features of this integration is the automatic syncing of property listings from AgentBox CRM to Dripflow.io. This feature empowers users to seamlessly and instantly send their listings to Dripflow.io by merely ticking 'Dripflow.io' in their 'Portals' section on AgentBox CRM. This single click replaces countless manual actions, reducing time and eliminating potential errors, thus enhancing overall efficiency.
Simply setup an account on dripflow (takes less than 5 minutes) & tick dripflow in your portals section when publishing a listing. This will automatically create your listing graphics, distribute them to your socials and run ads.
Dripflow also provides tools to further improve your workflow, these include:
What data is shared with dripflow?
Dripflow connects to all major Australian CRM system via an XML feed, this means the only information we receive and deal with is the property data for listings you choose to push to us, such as the street address, beds baths parking, priceview text, images, description etc…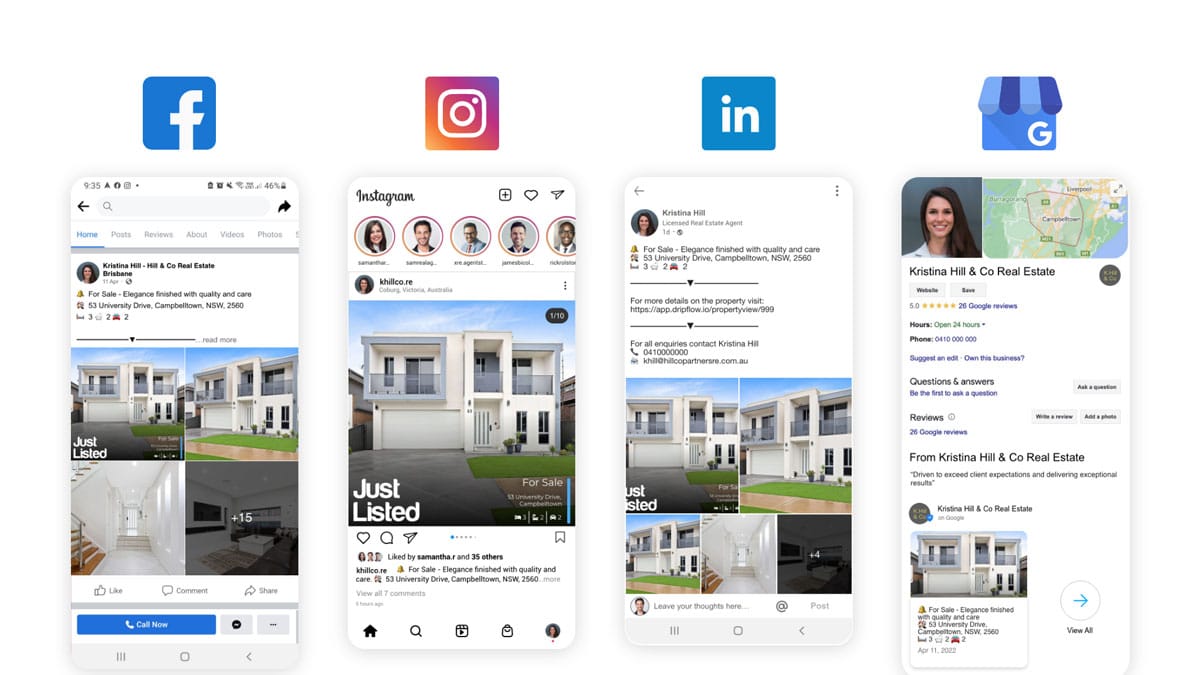 Benefiting from Collaborative Features
AgentBox CRM users can further benefit from Dripflow.io's collaborative features. Company administrators can easily switch between individual office/agency and user accounts, offering greater control and alignment across teams. The content library feature allows administrators to create and share content with the company or individual groups, fostering collaboration and consistency.
How do I setup an account?
We have plans starting from Free and they range up depending on the features and amount of listings you have on a monthly basis. Most popular plan is $99/month (Yearly), which we also offer on a 14 day free trial basis. To find out more about the plans, see our pricing page here: https://dripflow.io/pricing